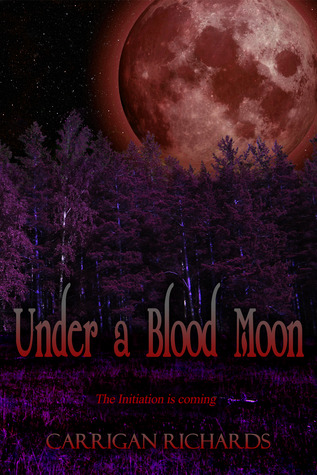 My Rating: 4.5 of 5 Stars
About Under A Blood Moon:
Falling in love isn't the only problem for Ava Hannigan.
When seventeen-year-old Ava discovers that she can breathe underwater, she's disappointed. She wanted to be normal and dreads the day of her initiation into one of the most powerful covens of Elemental Enchanters. She has fallen in love with a human, which is forbidden, but she has such a strong connection with Peter, the only other person who knows what it's like to grow up motherless.
Ava and her friends never expected to be caught up in the middle of a three-hundred-year-old war. Devon wants revenge against the humans for killing his master. Xavier, a ruthless witch, is building an army for Devon by spellbinding several students into becoming dark Enchanters. After Xavier realizes Ava and her friends are Elementals, Devon will stop at nothing to have their power. Xavier threatens Ava, attempting to coerce her to join them, but when she refuses, he kidnaps Peter.
Ava must seek help from her coven to defeat Devon and accept her life as a witch in order to save Peter and protect the humans.
So, before starting Under A Blood Moon, I figured that yes, it was going to be a good book(wouldn't read it if I didn't think so), but I didn't think that it would be absolutely amazing. I was taken by surprise, though, by how much I got swept up in this story. I feel like one of my favorite parts of the story is that the main character and her five closest friends all start out knowing that they are Enchanters, which is kind of outside the norm, and was a pleasant surprise to me.
Ava Hannigan is an Elemental Enchanter, which is a rare type of Enchanter and one that tends to be more powerful. Ava's element is water, which gives her the ability to breathe underneath it, and the other five members of her coven control the other main elements. Having been a part of this particular group since she was seven, and all the others pairing up she feels that she should stay with Thomas, her long time boyfriend and Fire Elemental Enchanter, even has he continues to be possessive and basically abusive, and even though she is in love with Peter, a human.
I absolutely could not put this down! You watch as Ava slowly but surely becomes more defiant and starts to realize that what she wants is important too, even as she pushes Peter away for his own safety. I don't want to give spoilers, but I have to say that I really loved their relationship. Peter reacted honestly throughout the book. Even though he had feelings for Ava, he didn't let that get in the way when he felt he needed to say something. Not only did I enjoy Ava and Peter, but I feel like the other members of the story were well developed as well. I don't want to name names, but even the characters who were pretty much "bad guys" were so enjoyable to read about, because I feel like even they had many layers, and it didn't all read as black and white, if that makes sense. I would definitely recommend this book for fans of young adult paranormal-type books, especially if you enjoy something a little different. Book two of this series comes out in July and it's already on my Goodreads TBR List. In fact, this author also has a contemporary story that I've promptly "one-clicked." There is just something about the way she writes that kept me turning pages as fast as my Kindle could keep up.